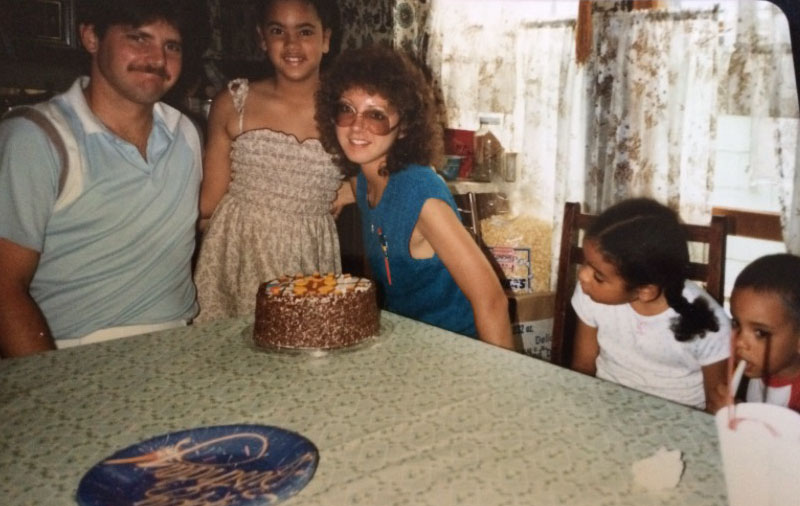 That's me, the one looking at the cake wondering when we were going to eat it! Who else remembers those cakes from the 80's lol (side note, my Aunt is going to kill me for putting this photo up of her – lol)?
When I was born, I was labeled a "failure to thrive baby". What a way to enter the world! My mom got sick after I was born and could no longer breast feed me. So I had to be put on Similac. Downer! I always wonder now that I have done my research on food allergies, what was the actual root cause?
Do you have food allergies like I do? I am allergic to milk and wheat.
Watching others enjoying something as simple as a piece of cake, knowing I couldn't eat it without having a severe allergic reaction, was unbearable. It took 5 years, but I learned how to make desserts that taste good and would not hurt me. I believe no one should feel excluded from life's celebratory moments because of a food allergy.
We only use: Organic, Gluten-Free, Non-GMO and Fair-Trade ingredients. Everything is naturally vegan.
Made in a dedicated facility free of the "Big 8".
Special Thank You Shout Outs:
You learn what unconditional love from your family and friends really means when you follow your heart & gut and start a conscious company. I did not know how to bake and had no desire to even be a baker before this experience. I mean I could follow the instructions on box mixes, but to bake from scratch? Nope. All I had were my food allergies and a longing to create desserts that I could eat that tasted amazing but wouldn't make me sick. I was very blessed that others who had food allergies and those who did not have food allergies liked them too! I was encouraged to share my gifts with the world. To start a food business. So here it is – The Pink Bakery, Inc.!
To my trusty supporters, although you may not have known at the time what you were doing for me, your contributions made all the difference in the world. To those who wouldn't let me quit when I was crying in frustration and was ready to give up, to those who let me bake in your homes, to those who helped me learn about the business of the food industry, to those who shared your food allergies and sensitivities with me, to those of you who continuously taste tested my mixes (whew in those early days I know it was tough LOL); I say thank you! Your "constructive criticism" and "encouraging words" pushed me to become a better baker and complete my mixes for The Pink Bakery, Inc. The journey to get here, to this place, where my mixes have been given the stamp of approval, the testing of the packaging is complete, the website is up and I still have my hair (maybe a few extra grey pieces but I still have it none the less) – has truly been a life changing experience. I want to thank the village that helped me get here. I love you all more than you know and because you helped me build this company, people all over the world can have dessert again without worrying about an allergic reaction to the Big 8 allergens. Give yourselves a pat on the back – that is your legacy.
God, Mama, Sacha, Ishmael, Bilal, Sequoyah, Ernest, Maciah, Mariah, Manny, Maria, Karen S, Jeanne and John C, Nate S, John G, Kelly, Kevin, Kelsey, Charlene, Ray, John L, Kim G, Raven, Gennifer J, Hadiyyah, Sumaiyah, Clark Family, Lindsay, Javon, Layla, Reaghan, Houston Red Tent Group, Kenny M, Sarah A, Hassina M, Andrea, Eric and Elijah W, Shavell & Darryl P, Andrea P, Jujuanna B, Tesha G, Catherine H, Qingue L, Sarah M, Samantha B, Brian R, Connie P, Susan D, Cheri S, All Dentists and Staff – Integrative Dental Solutions, The Milwaukee Islamic Dawa Center, Rena A, Rose K, Cathy B, Katie G, Brittany E, Laura H, The Wisconsin Athletic Center staff, Talbot's of Brookfield, Mike and Jennie K, Thresea and Victor G, Mez The Nashville Business Incubation Center, Angela J, Mildred W, Food Allergy Education and Research, Abbey and Grant C, The Serenity Healing Center, Kelley B, NAWBO Memphis Chapter Accelerator Class 2017 , Angela L and St. Jude's Target House.
We did it!!
Nubian – The Pink Baker