Beyonce's BeyGood Foundation Empowers Businesses For Prosperity – July 25, 2023
Now Trending: "Plant-based" foods — and "vegan" is out – Axios July 5, 2023
Innovative Baking Mixes to Debut at Show Article – Summer Fancy Food Show – June 19, 2023
Blackdoctor.org Interview – May 18, 2023
Essence Shop Live Feature – March 2, 2023 Click Image for Interview
Cover of Bader Philanthropies 2022 Impact Report
FedEx E-Commerce Learning Lab – TMJ4 Feature – November 2022
WWBIC 35th Anniversary Luncheon Featured Centerpiece Product – November 2022
Member of Something Special From Wisconsin – October 2022
Nominated The Buy From A Black Woman Food Service Company of the Year – September 2022
Nominated for Coolest Thing Made in Wisconsin – September 2022
Wisconsin Governor's Executive Residence Speaker – WWBIC 35th Anniversary Celebration Reception August 2022
Official Dessert Vendor – The Business Council 2022 Luncheon – Wisconsin Club Milwaukee – August 2022
Women in Business Symposium Speaker – August 2022
Association for Enterprise Opportunity 30th Anniversary Gala Dessert Vendor – Smithsonian National Museum of African American History & Culture – July 2022
Only Wisconsin Based Business Selected for Buy From A Black Woman Inspire Tour Presented by H&M – July 2022
Associated Bank Small Business All-Star – June 2022
Essence Magazine – 22 Bold Black-Owned Brand To Support This Mother's Day – May 2022
Partnership with Marquette University – February 2022
Allergic Living – January 2022
BizTimes Milwaukee Business News – January 2022
BizTimes Milwaukee Business News – January 2022
WWBIC LISC/ Kroger Video – December 2021
Milwaukee Journal Sentinel Feature – December 2021
Adobe CoCreate Small Businesses – June 2021
James Beard Foundation Feature – April 2021
Spokin Top 100 Women in Food Allergies – March 2021
PETA Instagram and TicTok Story – December 2020
CNBC Small Business Playbook – National Entrepreneur Month Highlight – November 2020
VegNews Feature – November 2020
BeyGood Impact Fund 2020 – Round 2 Recipient
Featured Product on Mrs. Tabitha Brown's Very Good Mondays – July 2020
Grindset Live at Epicenter – Women of Color Panel Global Entrepreneurship Week 2019
40 Under 40 Urban Elite 2019 Awardee – November 2019
Bluff City Life Television Show – April 2019 
2019 SBDC Day – Women Owned Small Business Focus
Memphis Grizzlies & T-Mobile 2019 HBCU Empowerment Award Winner
Edible Memphis – September 2018
20 On The Rise Award Winner 2018
Choose 901 – Satisfy Your Sweet Tooth With Gluten Free and Vegan Options
Memphis Flyer – June 21, 2018
MIFA 50th Anniversary Celebration
Snack Safely Guide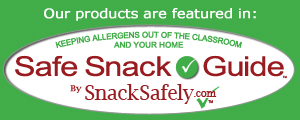 The Safe Snack Guide is trusted by thousands of schools and tens of thousands of parents nationwide to help keep egregious allergens out of the classroom and home. Displaying the Badge extends that trust to your site and products. The Manufacturer's Badge informs the public that we choose to list its qualifying products according to SnackSafely.com's terms and by doing so helps accommodate those with food allergies.
https://snacksafely.com/safe-snack-guide/
National No Nuts Moms Group Facebook Page & Listed as an Allergy Friendly Site
http://allergyfriendly.weebly.com/
https://www.facebook.com/nonutsmomsgroup/photos/a.428460540568859.96301.132481263500123/1558705184211050/?type=3&theater
Rising Tide Society – Memphis Chapter

The Rising Tide is a group of creative entrepreneurs that gather in the spirit of community over competition.
https://www.risingtidesocietymemphis.com/blog/thepinkbakery
RSVP Magazine July Edition Page 22